Wildfowler Decoys began in 1939 in Old Saybrook, Connecticut, by Ted Mulliken. Mulliken was a businessman who had a game farm and gunning club that specialized in organized pheasant shoots, upland hunts, and duck hunts.

Mulliken had been involved with another decoy company, Dauntless, that had closed its doors in 1934. When a hurricane wiped out Mulliken's game bird operation in 1938, he decided to try the decoy business again, and named his business Wildfowler Decoys. His goal was to produce realistic decoys that could be used in all kinds of water, and therefore would appeal to hunters not only from the United States, but internationally as well.

Mulliken was able to mass-produce decoys without sacrificing quality; therefore, Wildfowler Decoys were readily available and relatively inexpensive to buy. Wildfowlers were also popular because their flat bottoms with a flat keel made them extremely stable, the posture of the birds was relaxed, and the detailed paint jobs on the decoys did a good job of imitating real plumage. Wildfowler decoys were available in more than one model for every species. For example, the Superior model was the most basic of the decoys, while the Standard model featured a feather finish and the Atlantic Coast and Utility Models featured inletted heads and blunt tails.

Wildfowler Decoys was the type of operation that kept up with the times, and that's why it remained successful for so many years. During the 55 years it was in business the company had five owners, each of whom introduced new styles as the market changed and new competition came on the scene.

Today, many beginner and experienced collectors are interested in Wildfowler decoys. For duck hunters who hunted between 1930 and 1980 especially, Wildfowler decoys are the first that come to mind, and they continue to be viewed with a certain nostalgia. In recent times, Wildfowler decoys are increasingly being viewed as collectors' items, and their prices are rising as more people collect them.
---
Copyright 2007-2022 Zeducorp.
All rights reserved.

Wildfowler Decoys
Related Mallard Ducks Image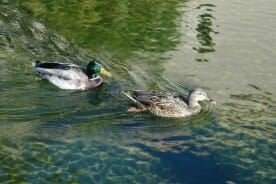 Male And Female Mallard Ducks