There are many different types of people who collect decoys. Some are hunters, others are art collectors, while still others have no direct connection to decoys but enjoy finding and displaying them.

There are many different types of decoys, and since there's much to learn most decoys collectors pick a certain area of focus and concentrate on it. For example, some people collect decoys that come from their region, while others collect decoys from a certain period in history. Some collect decoys of a certain species, while others prefer to focus on a certain manufacturer, such as Mason or Wildfowler. Still others subscribe to buying what they like, when they like it. Regardless of your decoy collecting approach, what matters most is that your decoy collection gives you enjoyment.

The best way to become a savvy decoy collector is to educate yourself. Once you've narrowed your focus, learn as much as you can about the particular decoys that you are collecting. Look on the Internet for information, and also be sure to read books that relate to your areas of interest. Wild Fowl Decoys by Joel Barber, American Bird Decoys by William F. Mackey, and The Art of the Decoy by Adele Earnest are three excellent books that will give you a good overview of everything you need to know about earlier decoys. Collector's Guide to Decoys by Gene and Linda Kangas has several essays on collecting decoys, as well as an informed chapter on caring for your decoys.

You can find collectible decoys at decoy shows, auctions, flea markets, and antique shops, as well as online at auction sites such as eBay. To keep in touch with what's going on in the world of decoys, try subscribing to one of the industry's magazines, like Decoy magazine. Be sure to attend some decoy shows and talk to experienced collectors, who will be more than happy to share their knowledge with you. The Midwest Decoy Collectors Association holds a national show every year in St. Charles, Illinois, that shouldn't be missed by the serious collector.

When determining the worth of a decoy, form — or how expertly the decoy is carved — is usually the first thing that is taken into account, followed by the quality of the painting, and then the condition of the decoy. While a decoy's age often influences its condition, there are many old decoys that are in good original paint. Decoys that have not been refurbished or altered from their original state are more valuable than decoys that have been altered, regardless of their condition.

To preserve your valuable decoys and keep them in mint condition, store them in a cool area of moderate humidity, out of the way of direct sunlight.
---
Copyright © Zeducorp.
All rights reserved.
For your convenience, each supplier link will open in a new window.

Collecting Decoys - Collectible Wooden Decoys
Related Image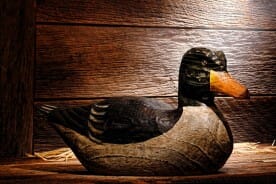 Carved Duck Decoy On Display